Creative Dual Use Toys Baby Inflatable Patted Pad Baby Inflatable Crawling Water Cushion Water Play Mat for Infants
❤️ THE MOST STIMULATING TOY A BABY CAN HAVE ❤️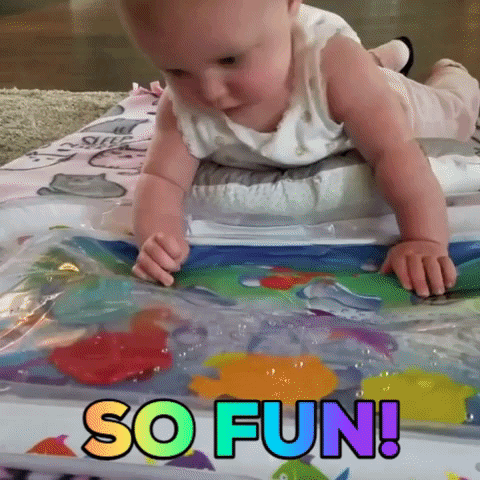 Let your baby swim in a colorful sea world right in the middle of your living room! If you are looking for a fun, stimulating and entertaining tummy time play mat, this is it. Our mat will help strengthen your baby's legs and arms while promoting the development of essential skills, you should look no further!
Develop & Learn – Tummy Time Water Mat
Why choose our Water Tummy Mat? Help your newborn have fun squeezing, squishing, pressing the water mat, and trying to move the fish around! You don't have the time or energy to clean up after leaky mats and we know it. That's why our mom-approved water mat is 100% leak proof!
How to use it: Open the biggest valve first and fill the mat with tap water. Then, open the small valve and inflate with air. When not in use, the water can be drained and the mat can be folded and stored.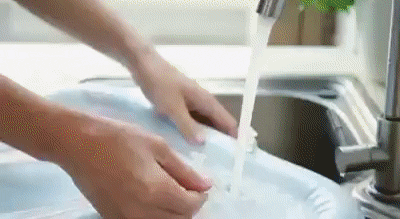 FEATURES:
The most adorable Tummy Time mat is finally here! Now you can offer your infant endless hours of splashing fun thanks to our premium-quality baby water mat! Help your baby develop essential skills and discover the magical world of colors and movements while having fun!
Unlike all those cheaply-made water baby mats that are leaky, smell horrible and cannot endure the abuse of a toddler, our heavy-duty PVC mat for tummy time is 100% leak-proof, so you don't have to worry about messy accidents. Plus, it's sturdy enough to pass the test of time!
Super easy to set up – Mom-approved Design! You don't need an MIT degree in order to set up our baby inflatable mat. Just inflate the outer ring and fill the interior section with water! That's it! Now all you have to do is place your baby on the splash mat and watch his/her eyes spark up with excitement!
Perfect Gift for Baby Showers This unisex baby toy will be much appreciated by the parents to be and is not available in stores. Don t be that person who buys newborn clothes that are outgrown before the baby can wear them. Give a gift that encourages a baby's natural curiosity while helping them develop their fine motor skills.
The water fill play mat is an essential tool for developing a solid head, stimulates baby development, neck and shoulder muscles as well as honing hand-eye coordination, fine motor, and social skills.
It is a sensory delight that enhances brain development.
Eye-catching graphics – Fascinated by the bright colors, sharp contrasts, and cute floating toys. Rain or shine is tummy time!
Your baby will try to catch and pat the bright colored toys as they float by.
This baby splash pad will provide hours of quality stimulating and healthy fun.
Simply fill the outer ring with air and the inner mat with your desired level of tap water set it on the floor and let the fun begin!
Easy to fold and bring along anywhere you go.
Specifications:
Dimensions: 66*50cm
Gender: Unisex
Features: Educational
Warning: Play under adult accompany
Package:
1 * Tummy Time Inflatable Baby Water Mat
Specification:
Creative Dual Use Toys Baby Inflatable Patted Pad Baby Inflatable Crawling Water Cushion Water Play Mat for Infants
Creative Dual Use Toys Baby Inflatable Patted Pad Baby Inflatable Crawling Water Cushion Water Play Mat for Infants